June 28 2017
The First Three Days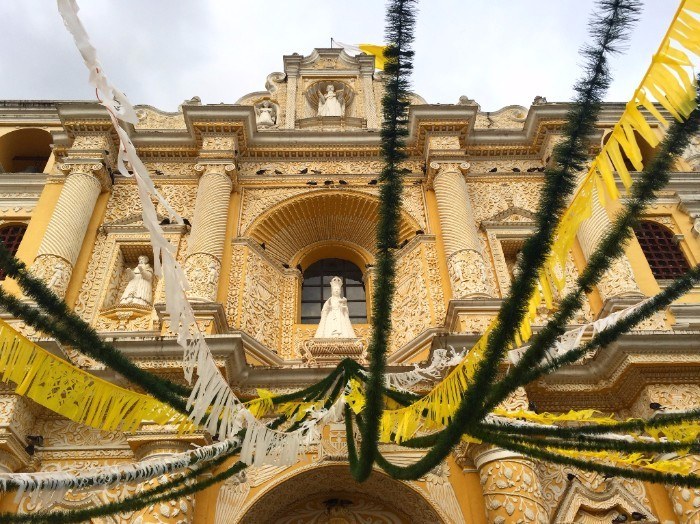 It's been a full first few days here in Antigua. I landed just before midnight on Saturday and found that customs here seems far easier than in the U.S. I had my bag and found Sergio holding a sign with my name on it within about 30 minutes of deplaning.
I'm curious if landing in Guatemala always out-turbulences landing near the Rocky Mountains or if this was an exception. The sound of broken glass echoing over the PA system - meant as a joke - didn't exactly soothe the fears of my fellow travelers, but we made it. 
The first morning, I met Hannah and her husband, and we all went to church together. The non-denominational church serves a bilingual audience and hosts mission groups frequently. The group of young boys and their dads seated one row up were from Colorado Springs, a Pride soccer team there on mission. We made quick connections. 
After church, we walked a few blocks to Mamma's, one of Hannah's favorite restaurants. Hannah's brother-in-law and mother-in-law, both Guatemalan, joined us. Hannah's mother-in-law speaks Italian and has been to Rocca Priora, the small Italian village where I lived right after college. We had lots to talk about and the ease of Italian came back quickly (much better than my current Spanish abilities).
That evening, I walked a couple blocks to the Santa Catalina Arch and Iglesia de la Merced (church pictured above). I read somewhere that they may have Mass at 7 on Sundays. Sometime after 7:15, they did! I'm finding that is typical here, things start when they want to or whenever enough people are gathered. I don't know enough Spanish to understand everything said during Mass, but I could at least follow the order. Perhaps by week 6, I'll understand more of the homily. 
Monday and Tuesday, I studied Spanish at a school for seven hours each day. Thankfully, not all of the lessons are in a classroom. My teacher Suelen and I walked to a large artisan market and through a couple parks while practicing. In the afternoons, we go on a walk through a neighboring farm. That plan continues today and tomorrow, then I'll be off on Friday. My brain is looking forward to a break! 
I found a yoga class that started sometime around 6:30 last night and is taught either on the rooftop or on the dance floor of a night club. You have to know where the club is, that they actually have a yoga class there, and ring a hidden doorbell to get in. Word of mouth is a powerful weapon here and I have Hannah to thank for many of the tips. 
There are some minor discomforts of course—like figuring out directions in a place never visited, or buying groceries in another language or dealing with frequent mosquito bites—but all in all, it's been a great adventure thus far.
This weekend, I'll have more time to explore Antigua and possible the surrounding areas, and next week, I'll be at Escuela Integrada most days volunteering with We Are Graces. 
I wouldn't be here if it weren't for the generosity of so many of you. Thank you for supporting my continued education and service to students here in Antigua and at my school in the U.S.
With sincere appreciation,
Autumn 
P.S. I'll be posting pictures on Instagram throughout my experience. You can find me here - https://www.instagram.com/kautumnjones/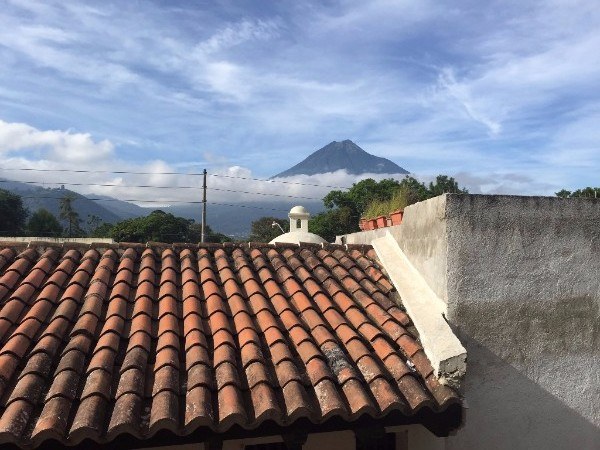 Tanaah Guest House
This is the view from my bedroom window. The house where I'm staying is on the north end of town. Evelyn, the host, makes a delicious breakfast and has answers for everything. Her dog likes to be around during meal time. The three cats, on the other hand, haven't quite warmed up to me.