August 10 2017
Walking With Others In Their Darkest Hour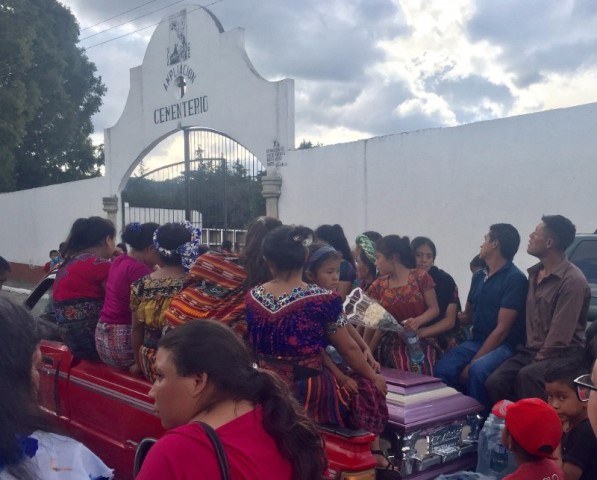 "Therefore every scribe who has been trained for the kingdom of heaven is like a householder who brings out of his treasure what is new and what is old" -Matthew 13:52
On Sunday, August 7, eleven of us went to a funeral in Parramos, a town near Antigua. Maria died at age 37 of an unknown illness and leaves behind four girls, three of whom are students at Escuela Integrada. The girls—Maria Fernanda, Evelyn, Norma and Anita are 11, 9, 8 and 4, respectively. This is not how I thought I would spend my last full day in Guatemala, but, as we walked with the family from the church, through the town, to the burial site, I realized that is exactly why I was there—to serve, to walk with and to love when the families need it most.
Yesterday morning, as I carefully placed my belongings in my suitcase for the journey home, the girls' tear-stained faces and the gravity of the experience weighed on me. Now, I am back in the U.S., back home to the comforts and conveniences of the U.S., and the four girls are in Parramos, their livelihood uncertain and their futures fragile.
There is a very real possibility that they will not be able to continue with school. They may need to work instead, to sell tortillas as their mother did to keep the family afloat. Our hope and our prayer is that they keep going to school. Education is the only way out of the trap of poverty in Guatemala, and, at 11, 9, 8 and 4, they should be in school for many more years.
I wrote a story about the family (pictured) for the GRACES website. I invite you to read it. Those four beautiful, smart, and, now, motherless, little girls have a tough road ahead.
Mission work isn't supposed to be easy. It is far from comfortable. But it is the work we need to do to continue making this world a better place. There are people in every corner of the world who would be elated to know that someone cares for them. Service doesn't have to be building something—it certainly can be—or traveling to a third world country. It may be as simple as going next door to your neighbor's house to ask them how they are doing.  
I believe each person has a gift, a way of serving unique to them and their environment. God gave me the gift of storytelling. This summer in Guatemala, I was able to use that gift to support a little-known school on Calle Ancha in Jocotenango. I met and formed relationships with the teachers, all Guatemalans, many of whom came from situations similar to that of the students they teach. I taught classes about internet safety and cyberbullying for the 4th through 9th graders, and, later, helped the psychologist give a workshop on the same subject for parents. I worked alongside the mission groups who came from the U.S. to tell their stories through writing, photography and video.
And, Sunday, I walked with a family, broken-hearted at the loss of their mother, from a church to a cemetery, and I watched them shovel dirt atop her grave. I hugged the four girls and told them I would be back soon.
As the plane left Guatemala City yesterday afternoon, I cried. The joy of serving pierced my heart this summer. Walking with Maria Fernanda, Evelyn, Norma and Anita in their darkest hour is exactly where God called me to be on Sunday. I love those girls, that school and the community of Escuela Integrada. And I will be back soon. The story is far from over.
Hasta pronto mi amigos.  See you soon my friends.
Your Faithful Writer, Autumn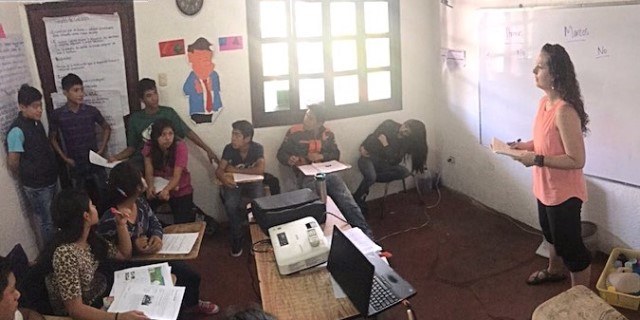 To everyone who contributed financially and through prayer, thank you! Your generosity made a difference in the lives of the students, teachers and community of Escuela Integrada. Your support provided:
Five classes for the students at Escuela Integrada on internet safety and cyberbullying
An internet awareness and safety workshop for all of the parents at Escuela Integrada
12 stories for GRACES (and at least two more in the works)
89 hours of Spanish lessons to better meet the needs of the families I work with at home
A whole lot of love for the children and families of Escuela Integrada