June 06 2019
Spring Project Update - 2019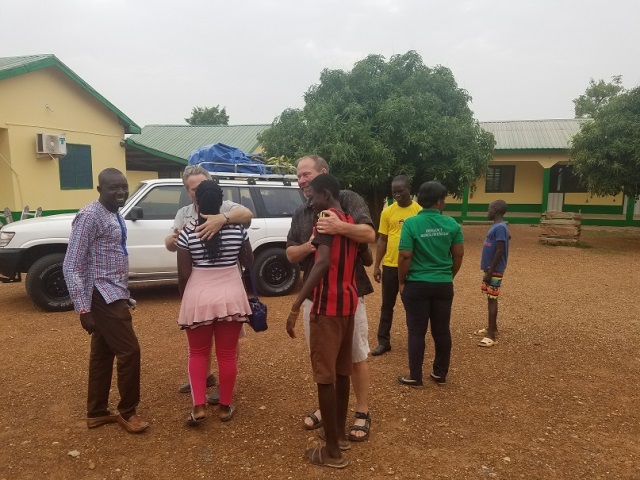 Dan and I, along with Dan's brother Mark, traveled to Ghana on the 18th of March and returned on April 4th. It was a good trip.  We asked for prayers for travel mercies and that we would be in tune with what God wanted us to do on this trip. He certainly answered those prayers.
Our first stop was the city of Tamale. We visited the Radach Hotel, which is owned by our friend Johnson Asare. His hotel is very large and is the funding source for the many mission projects he does. He has been a wonderful mentor to us and was encouraging on this trip.
While we were in Tamale, we were able to see most of the kids there. We had dinner with five of the girls from Tamale and the surrounding area. They are doing well. Dan asked them about their favorite memories from growing up in the home, and we laughed about the fun times. The next morning, we saw three of our boys who are attending the Tamale High School. These boys are finishing their third year and will be taking their final exams soon.

We arrived at the Sawla Children's Home with a great welcome. It always feels like we're coming home. So good to see the kids and the staff doing well. We were happy to spend time with our new administrator, Emmanuel Danka. He has only been working there for a couple of months. We had a nice dinner with Emmanuel and his wife and youngest son. The SCH had a ceremony to welcome him a few days after we arrived. We also attended the church where Emmanuel is the pastor. Mark gave the sermon that day and it was a nice service.
Our dear friends Henry and Edmund traveled from Accra to spend a few days with us in Sawla. It's a very long bus ride through the night, so we appreciate them taking the time. These men have been involved with the SCH and the SVL since the beginning, and it was great to work together with them.
Mark and Edmund conducted interviews with all the staff at the SCH. They had a very blessed time as they talked with each of the employees. Some have been with us from the start and some are new.
We hired new tutors to help the children at the home with their studies. These tutors each focus on one subject - English, Math, and Science. These are the subjects that most of our kids struggle with. We are hoping for this new program to really make a difference with the kids, and we appreciate your prayers on this.
One of our girls, Sophia, has been having health issues for some time. Lately, she has been having seizures. She had been seen at four different hospitals and they could not find anything. In Ghana when there is no easy diagnosis, it becomes a "spiritual" issue. She was sent by her family to a "Prayer Camp" where she was prayed for each day. We got permission from the pastor at the camp and from her family to take her to a city with a better hospital. She traveled to Accra, was examined and given anti-seizure medicine. She has not had seizures since then and is back in school. Please pray for continued good health for Sophia.
We were able to meet the new Chief of Sawla on this trip. He has not been in office long. We met him at his temporary palace and then he came later that day and toured the SCH and the SVL. He seems very nice and we look forward to working with him.
As we traveled home, we were able to see six of our kids who are in colleges or universities. We had a nice time with them. It's so good to see how well our kids are doing as they head out on their own.

The Sawla View Lodge is nearly completed. Moses had been very busy before we arrived. The open-air dining on top of the restaurant in almost done. We spent nearly every night up there. The view of Sawla is everything we thought it would be, and because Sawla is growing, the number of lights is increasing. It's beautiful!!
The aunt of Felicia, who runs the bakery, was in town on a break from the Zena Lodge. She is the pastry chef at that beautiful hotel in Mole National Park. She came to offer her assistance to our chefs in helping them with pastries. They worked together, and we were the beneficiaries of their work. Yum! Brownies, corn bread, custard, breads and donuts. We also worked on redoing our menu, complete with pictures. Dan worked long hours in the office working on the processes for the bookkeeping. The rooms and the restaurant are getting busier all the time. We are ready to start conferences, which will increase all aspects of the Sawla View Lodge. We had a great training session with the Lodge staff as the three of us taught them about good customer service. It's a challenge but we're working through it.
Moses had extra supplies from the leaf roof on the top, so he created his "Summer Hut". It is a covered platform with couches and tables, and it was the most popular place for guests to hang out while we were there.
It was a busy trip for all of us, but it was also a lot of fun. I did get a marriage proposal on this trip. A man delivering water to the Lodge said he wanted to marry me, but I told him I was already married. He said he would "add me". I said that my husband would have something to say about that. We had a fun night watching Willie Wonka and the Chocolate Factory (original version) on a new DVD player. Also, it was great fun to welcome a busload of tourists from Accra to the north. They stayed with us for two nights and traveled up to Mole National Park. This was exciting because people from the south don't ever travel to the north for fun. The roads are better, and it is good to see them exploring their country.
Thank you for your love for the kids, your support and your prayers. God is doing amazing work in Sawla and we love being partners with you!!
Lori, Dan, and Mark Houk